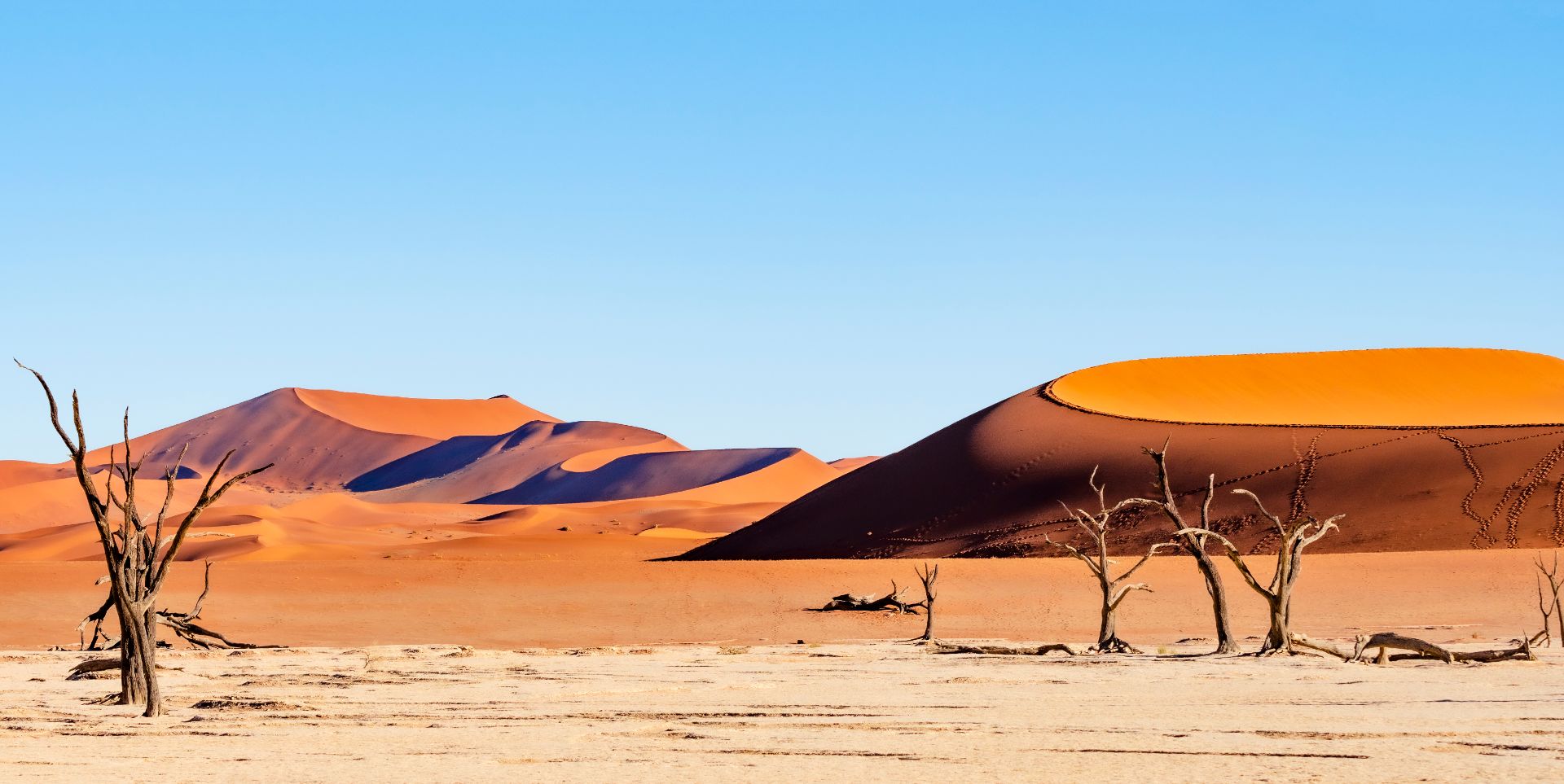 Namibia, in Southern African proudly displays areas of stark beauty and striking landscapes. It's a country where a desert sits alongside a coast and mountains and dunes abound.
The Sossusvlei is a must visit, where vivid, burnt orange sand and petrified trees paint a picture of sheer solitude and sharp contrasts. Visit star attraction Etosha National Park in the north or self-drive the length of the country along the slightly spooky Skeleton Coast – an extraordinary experience, and a way to truly feel the soul of Namibia.
Sossusvlei is a marvellous place to start but naturally, as it's in the middle of the oldest Desert in the world, the Namib Desert, flying in on a small plane is generally required. The option is to leave from either Swakopmund or the Capital, Windhoek. If you love quad biking , this will be your mecca; roar over dunes, star gaze from your rooftop, swim in sparkling pools almost all year round and spot rare desert animals like the bat eared fox, brown hyena and aardvark. It's a honeymooners delight and a family favourite.
The Kalahari Desert is also a part of Namibia and one of the biggest attractions is sheer silence and solitude. Within the Kalahari, there are a number of prominent reserves including the Central Kalahari Game Reserve, Khutse Game Reserve as well as the famous Kgalagadi Transfrontier Park.
Etosha is one of Africa's great wildlife parks and Namibia's prime wilderness conservation area. Spanning a vast 22,300 square kilometres, it's made up of grassy plains around a huge salt pan, which becomes a shimmering lake after heavy rains that attracts large flocks of pale pink flamingo. Etosha holds rare and unusual species like the black-faced impala, Hartmann's mountain zebra and the smallest antelope in the world, the Damara dikdik.
In the country's far north eastern pocket is the captivating and largely unexplored Caprivi Strip. The Caprivi Strip is a rich waterway that winds its way down to the Okavango in Botswana. It's an area prolific with birdlife and rare animals, where activities include fishing and boating. And as a bonus, the region's close proximity to the Victoria Falls presents a perfect add-on for many a self-drive safari.
Damaraland, also in the far north boasts a plethora of unusual species of plants and trees and after light rains, the arid soil is turned into a blanket of flowers, painting the landscape with splashes of bright colours. The rare black rhino can also be tracked on foot in Damaraland, an exciting day outing. Expect to search for desert lions and elephants that have remarkably adapted to this tough terrain.
Namibia is a country of contrasts and opposites and certainly one that stands out. Think shipwrecks in sand dunes, hyenas on beaches and elephant seals on shore. If you're looking for an African holiday that is out of the ordinary, Namibia should be your go-to destination.